The Marco Sportfishing Club organized a unique event from April 25 to 28.
The long-range fishing vessel American Patriot, located right here at Rose Marina on Marco Island, was a "home away from home" for 20 members and guests for an extravagant fishing show. A break in the April winds provided a window of opportunity for some very anxious anglers.
Monday afternoon, fishing tackle, clothes, sleeping bags, etc. made their way to this 135-foot floating hotel, dining room and fishing platform. Captain Ralph Hawkins held an orientation as we left Marco waters for a 12-hour trip to Pulley Ridge, about 140 miles to the southwest. Along the way, Chef Mike prepared a sumptuous filet mignon dinner, in what was to be a culinary event, as well as a fishing marathon. After dinner we relaxed, conversed and watched TV in the dining/living room until bedtime in the dorm below. Normally sleeping 36, the 20 of us had plenty of room to spread out and be rocked to sleep. In the early morning we were awakened by the smell of bacon, eggs, pancakes and fresh coffee as the chef prepared breakfast for all. Then it was the serious task of catching fish. And did we catch any fish! This type of "deep" fishing was new to all of us: Reeling a fish, plus a three-pound weight about 700 feet off the bottom would be a "challenge" with a conventional reel, so we were all introduced to electricity coils.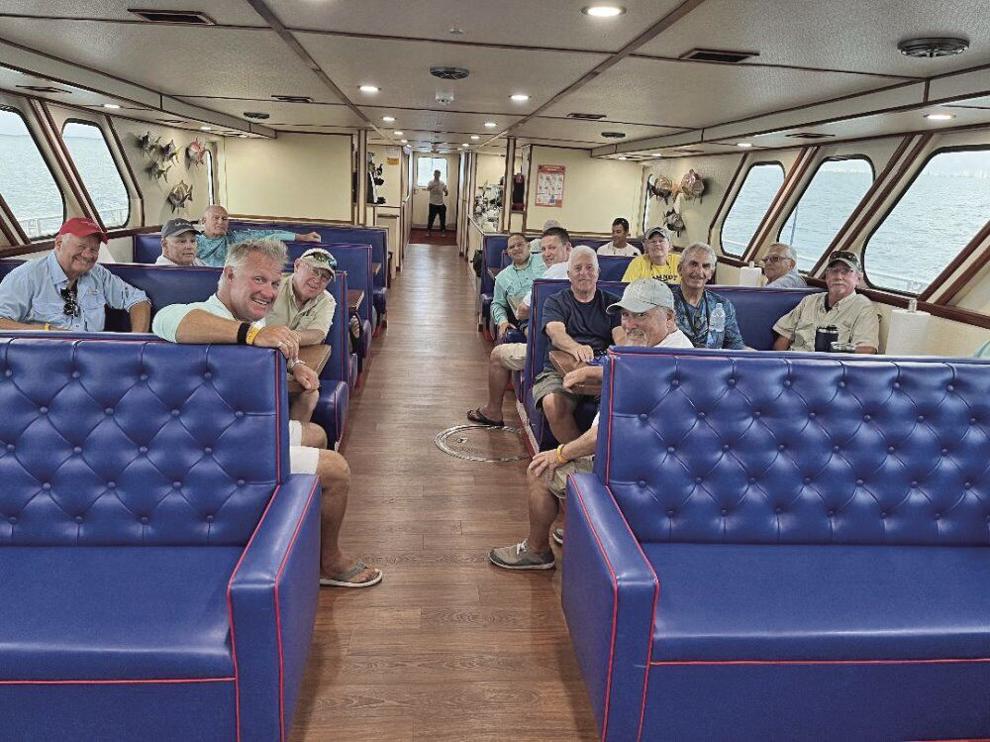 As beginners to this type of fishing, there was a learning curve that anglers mastered within the first day. It's not easy to detect a "bite" at 700 feet and then slowly bring the fish to the surface without being worried by sharks or dolphins along the way. The excitement built throughout the day as the catches increased. The captain was moving frequently, then drifting an area. In the meantime, Chef Mike prepared treats like peach cobbler, then lunch, Philly cheese steaks and dinner, a delicious pork loin. Were we on a dinner cruise or a fishing adventure? Both!
As the day drew to a close and the catch was recorded, some anglers prepared to fish at night in shallower water with conventional gear.
The next morning we were ready and eager to get back on track. Most anglers never knew how many varieties of Groupers and Snappers there were (Snowy, Scamp, Kitty Mitchell, Queen, Yellow Eye, Vermilion etc.). In total, there were some 18 varieties and a total of 462 fish caught!
This event was a great experience for both new and seasoned anglers. The unanimous question when we pulled up to the dock at Rose Marina, "When are we going again?"
For more information on the Marco Sportfishing Club, visit their website at https://marcosportfishingclub.com/.